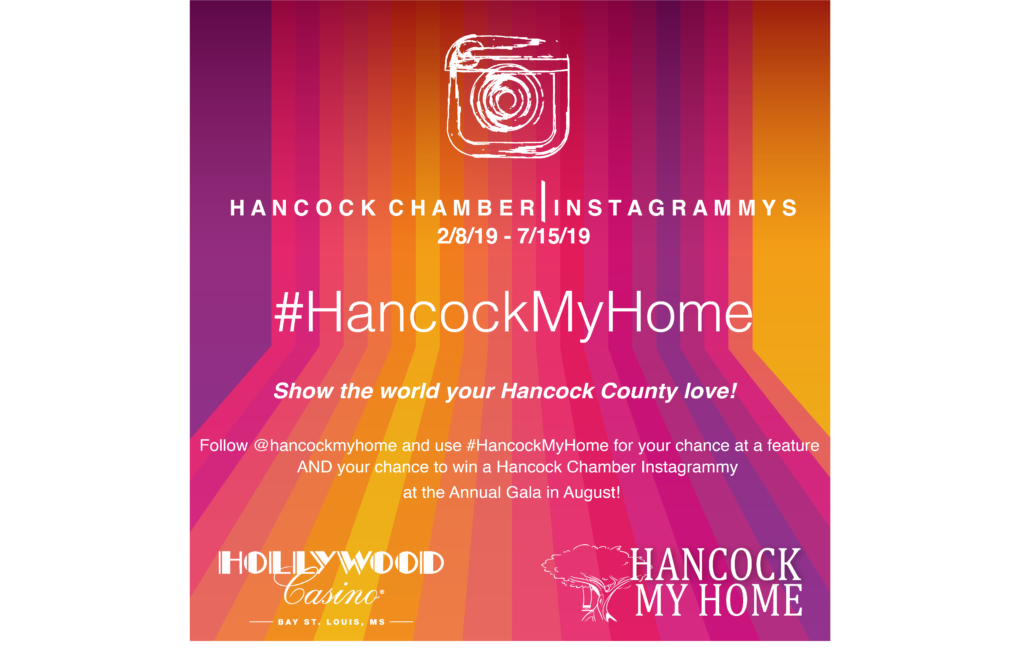 Hancock Co., Miss. Feb. 8, 2019 – The Hancock Chamber in partnership with Hollywood Casino Gulf Coast announced today the launch of the Hancock Chamber Instagrammy Awards.  The photo contest will run from Feb. 8th – July 15th.  Winners will receive their awards and recognition during the Annual Chamber Awards Gala at Hollywood Casino Gulf Coast in August.  The contest was created to capture all of the beautiful images showing the quality of life in Hancock County through the Hancock My Home website and social media sources, which is a project of the Hancock Chamber Relocation Committee.
The photo contest is simple.  In order to enter, contestants should follow @HancockMyHome on Instagram and tag their photos with #HancockMyHome.  The picture that receives the most likes in each of the ten categories will receive an Instagrammy.  There are 10 categories, each chosen to reflect different facets of life in Hancock County:
The categories are:
Food, School Spirit, Lifestyle, Scenic Byways, Fashion & Beauty, Work Life, Entertainment, Recreation & Sports, Homes, and On the Water
"People from throughout the world are discovering the charming city of Bay St. Louis, enjoying the wide open pristine beaches of Waveland, relaxing in the planned resort living of Diamondhead and savoring the solitude of the Kiln countryside," said Tish Williams, executive director of the Hancock Chamber.  "Through this innovative promotion they will now be able to experience this place we call home from our best ambassadors, our citizens and visitors."
Questions may be directed to the Hancock Chamber of Commerce at 228-467-9048.
###
Social Share